TRIP & FALL ACCIDENTS ATTORNEY IN LONE TREE, COLORADO
When you are injured in a trip and fall accident (sometimes referred to as "slip and fall accidents"), you and your family will be facing physical, emotional, and financial stress. At Landry Law, P.C., we understand how devastating a trip and fall accident can be. Trip and fall accidents can cause serious injuries that may result in severe complications with long term effects. That is where an experienced personal injury law firm like Landry Law, P.C. can help you.

As a trip and fall accident attorney in Lone Tree, Highlands Ranch, Denver, and across the Colorado Front Range for over 20 years, I have seen the damaging effects trip and fall accidents can have on those involved and their families. We handle the simplest to the most complex cases.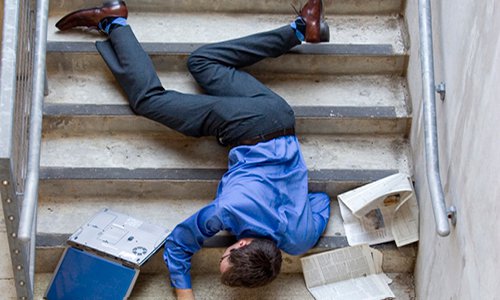 Property owners, property managers, and landlords have a duty to keep their premises safe.
Some of the causes of trip and fall injuries might include inadequate lighting, poor maintenance, slippery floors, and icy sidewalks. These accidents often occur in places such as a grocery store, department store, restaurant, hotel, or personal residence.
Insurance companies will do everything they can to delay, deny, and reduce the value of your trip and fall claim. They train their employees to make it difficult for trip and fall victims like yourself to get the compensation they deserve. Having an experienced trip and fall accident lawyer on your side to fight for your rights changes the playing field.
Causes of Trip and Fall Injuries
Icy sidewalks, walkways

Wet surfaces

Food or spilled drinks

Blocked isles

Unsafe steps

Uneven surfaces

Torn carpet

Open holes

Insufficient lighting

Safety code violations
Types of Injuries from Trip and Fall Accidents
Cuts, bruises

Dental injury

Sprains, strains

Broken bones

Head, neck, and spinal cord injury