Truck Accidents in Colorado
---
Passenger vehicles share the roadways with thousands of commercial trucks transporting goods and cargo across Colorado. Traveling on Colorado's interstate highways and mountain passes are challenging due to unpredictable changing road conditions and increasing congestion. The number of registered commercial tractor-trailers has increased nationwide and collisions involving other motorists are also on the rise. Every year, more semi-tractor trailers and large commercial trucks crowd Colorado's roadways, increasing the risk of accidents. Due to the size and weight of commercial trucks, collisions with cars, pickup trucks, motorcycles, or pedestrians cause serious injuries or have catastrophic consequences. Our experience with complex trucking lawsuits will help you and your loved ones pick up the pieces.
At Landry Law, P.C., we understand how devastating a truck accident can be. As a truck accident attorney in Lone Tree, Highlands Ranch, Denver, and across the Colorado Front Range for over 20 years, I have seen the damaging effects truck accidents can have on those involved and their families. The time following a truck accident can be full of anger, confusion, or pain and suffering. You already have enough to worry about without being forced to deal with mounting medical bills, loss of income, and property damage to your automobile. We can help.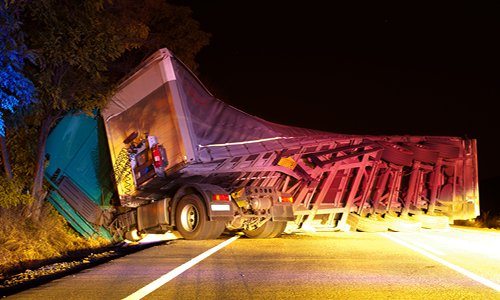 Commercial truck drivers contact the trucking company and their insurance company immediately following the accident to initiate a defensive plan. The trucking company and its insurance provider will do everything they can to minimize your chances in court and reduce the amount of compensation you deserve. Their tactics include hiding information or tampering with evidence such as making repairs to defective trucks after an accident. Commercial trucking is regulated by state and federal laws and the legal aftermath to recover damages after a truck accident is complex. It is vital to contact an attorney immediately following a large truck crash to preserve evidence and to protect your legal right to obtain fair compensation.
Insurance companies will do everything they can to delay, deny, and reduce the value of your truck accident injury claim. They train their employees to make it difficult for truck accident victims like yourself to get the compensation they deserve. Having an experienced truck accident lawyer on your side to fight for your rights changes the playing field.
Occupants in passenger vehicles are more likely to be killed or seriously injured in a truck accident than the driver of the truck. The National Highway Traffic Safety Administration (NHTSA) reported 4,067 large truck crash fatalities in 2015, up 4.1 percent from 2014. In Colorado, 64 drivers were killed in truck accidents in 2015.
Attorney Scott Landry of Landry Law, P.C. has practiced law for more than 24 years and is experienced in representing victims of large truck accidents. Colorado truck accident attorney Scott Landry has handled commercial vehicle accidents and represented clients in Lone Tree, Highlands Ranch, Denver, and across the Colorado Front Range.
We will go after the at-fault truck driver, the trucking company and their insurance company. We will review your automobile policy and get you the most, for the coverage that you purchased. If you are having problems with the insurance company getting your auto repaired or replaced, Landry Law, P.C. can help with that too.